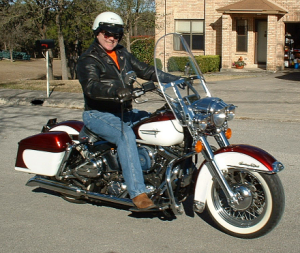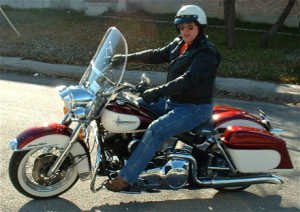 In providing these instructions, I assume you're exhaust system is either stock for a FLSTC, or is some sort of dual exhaust system (like the H-D factory dual exhaust who's pipes run down both sides of the bike below the height of the rear wheel axle. If you're running exhaust similar to a FatBoy (FLSTF) or Heritage Nostalgia (FLSTN), you must change the exhaust before starting on this project because the pipes travers the area used by the right-side saddlebag.
If you're installing onto any Softail other than a Heritage (FLSTC), you may have to make further modifications to your bike to accomodate the hard bags, such as rear turn signal relocation, exhaust modification (or replacement), etc. Bikes that most likely will require the extra modifications described above are FLSTF, FLSTN, FXSTC, and FXSTS.
I assume that your bags are already painted and assembled (clips, latches, locks, etc).
I assume that the bags you are trying to install are from an EARLY FLH (up to and including 1978). A place called V-Twin sells bags that look like these, but I recommend AGAINST buying those bags. They're junk. I am basing this claim on having actually seen a set and they were COMPLETELY unacceptable because they are made of abs plastic, they were severly warped, and they're smaller than the OEM bags that they're meant to replace.
All measurements given in these instructions work on MY bike. I cannot guarantee the same results for your bike due to differences in brands of rear crash bars, position of side-mounted tool-boxes, position of rear turn signals, etc.
I can't guarantee your bike will end up looking as good as mine (see Spictures on right - grin).
Lastly, you are performing this modification of your own free will. I will not be held responsible, financially or otherwise, for any property damage or personal injury that is caused while implementing, or as a direct result of implementing the modifications shown below. In other words, if you fuck up your bike or your tools, or if you injure yourself or anyone else, don't come crying to me. I'll be sympathetic - hell, I may even shed a tear (depending on the severity of the damage done to the bike), but that's where my involvement will end.