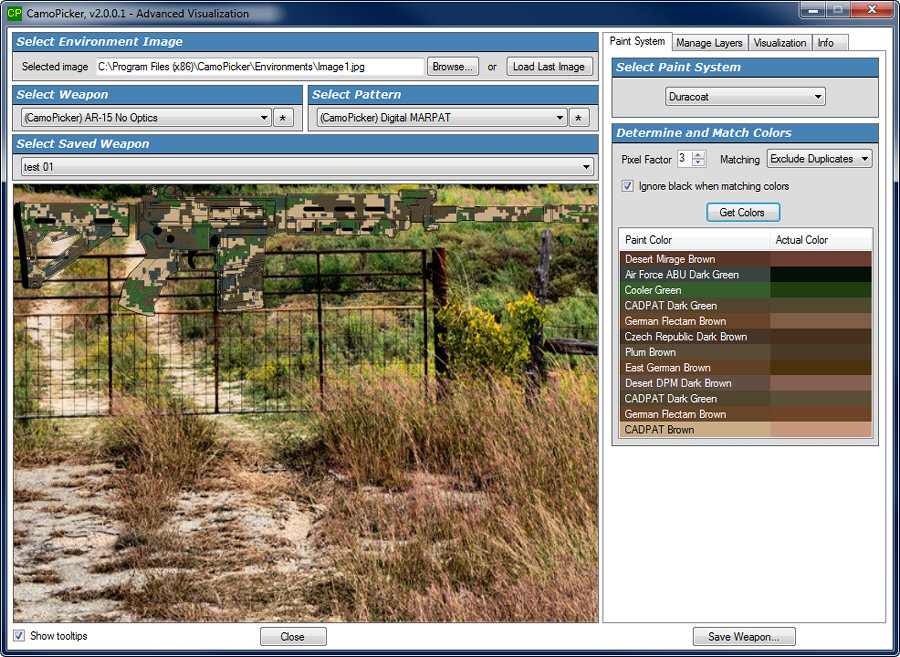 CamoPicker is a program that allows you to select camouflage colors based on pictures of your actual environment. The idea is that you provide a picture, and the CamoPicker selects from 1 to 12 dominant environmental colors from the photograph. At that point, you "visualize" your selected weapon.
Use your own environment images (several samples are supplied with the application)


Several weapon templates are provided. Those currently included are an AR15 with or without optics (ACOG) (everything is painted), a 1911A1 Government with painted grips, and a 1911A1 Government pistol with wooden (non-checkered) grips.


Several camouflage patterns are represented. Currently included (created by the program's author) are a digital/woodland combination, a digital MARPAT-style pattern (large and small), woodland, and Vietnam tiger stripe. New in version 2 is RealTree(tm) AP.


Several paint systems are represented. Currently included are Cerakoat, Duracoat, Federal Standard 595B, Krylon Camouflage, and Rust-o-leum.


Patterns can be adjusted (blurred, flipped, and mirrored) one layer at a time to create unique variations without having to generate more pattern sets.


Weapons (and other objects), patterns, and paint systems can be added by the user (detailed instructions are under construction).


Simple or advanced visualization of camouflaged objects (advanced provides more control over how the camouflage is applied, and which weapon template is to be used).


No registry changes are made to your system. The application is completely free-standing.


It's FREE!


It's OPEN SOURCE!


This is a Windows desktop application. There will not be a mobile version. A web version has been requested, but since I don't really like doing web apps unless I'm paid to do it, don't look for a web app any time soon (and no - I will NOT accept donations/payment to make it happen.
Finally, if you're a programmer, and feel inclined to do so, you can compile and run this app on Linux/Mono, but if you do, you're pretty much on your own. I have no real desire to do this myself, and the most you'll get out of me when asking a question about it are things like "Hmmmm", or "That's interesting." As for Mac users, you have 2-1/2 choices:
Install Windows in Parallels, install this software on Windows, and then you're good to go.


Install Linux in Parallels, and find a Linux programmer willing to mess around with compiling it and getting it to work under Mono. BTW, don't ask, because the programmer you're looking for is NOT me.


Mono is also available for Mac OS, but just like Linux, you'll need to find (or be) a Mac programmer that's willing to mess with it. Again, that programmer is NOT me.


This program is only intended for you to play with the colors to use on your weapon/object. It does not generate/print camo patterns, or generate an order form or any of that stuff.
Now that version 2.0 has been released, very few changes are scheduled for implementation at this time. For the time being, I will be periodically releasing new weapon templates and patterns. If you would like to assist in this regard, be my guess. Rudimentary instructions have been provided in the Documentation menu, and when you have somethin that you would like me to make available via this web site, you can contact me via the Support web page.
As with most software that I write for myself, the key thing to remember is that I wrote it for myself, and you just happen to be lucky enough to benefit from my desire to write this code and then give it away for FREE (the key word here). This means that as a general rule, I'm the person whose opinion matters most to me.
I'm the laziest redneck you'd ever want to meet, but if something breaks in the code, I'll see about fixing it (I personally hate it when something doesn't work as advertised). I'm usually pretty good about maintaining code, but let's face it, sometimes there's simply something more interesting (or important) to do. You won't get personal notices that the software's been updated unless you reported a bug that I've fixed. That means you're going to have to come back here every once in a while and check to see if there's a new version available.
No warning labels have been included with this software. I cannot be held responsible if you (or one of your children) somehow manages to swallow the downloaded file, or if you develop a rash, pustuous growth, or sprout additional appendages or orifices after applying the file to some part of your body. If you question your own ability to read, or to comprehend what you read, do NOT download the software.
If you're from another country (or even THIS country) and you don't speak English, that's cool, but I'm NOT going to internationalize this software, so I suggest that you either learn English, or find someone that will translate this stuff for you.
I know, this all seems somewhat harsh, but I honestly don't have time to coddle whiney little bitches. Even if I *had* the time, I still wouldn't do it, so cowboy up or go away.
If you're still interested in downloading and using this software, click the Download link in the menu at the top of this page. Remember, it's absolutely free, and I'm not taking donations.